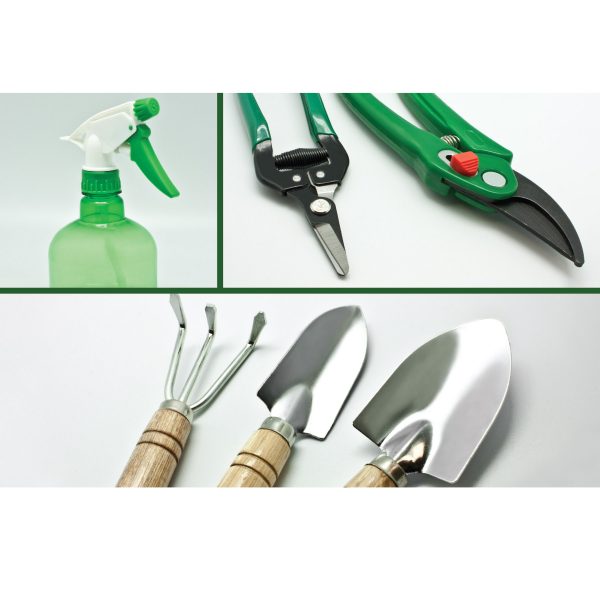 7 PC INDOOR GARDEN TOOL SET
| | | | | | |
| --- | --- | --- | --- | --- | --- |
| Quantity (5R) | 50 | 100 | 250 | 500 | 1000 |
| Decorated | $ | $ | $ | $ | $ |
| Blank | $0 | $0 | $0 | $0 | $0 |
| One Color | $17.50 | $16.95 | $16.50 | $15.95 | $15.50 |
| Laser Engraved | $ | $ | $ | $ | $ |
| Embroidered | $ | $ | $ | $ | $ |
| Full Color Acesmart | $ | $ | $ | $ | $ |
PRICING: Price includes one color, one position imprint.
SCREEN CHARGE: New Orders-$50(v), Repeat Orders-$35(v) per color, per position.
Please see GENERAL INFORMATION for additional charges and options.
$17.50 - $15.50
1000 in stock
Product size:
Tools: Approx. 7"
Bag: 9 1/2"h x 7 1/2"w x 3 1/2"d
Shipping Weight: 24 pcs / 55 lbs
Case Dimensions: 23" x 22" x 21"
Packaging: Retail Picture Box
Production Time: 5 - 7 Working Days
Material: 600 Denier Polyester / Plastic / Metal
Compact garden tool set includes a 400ml spray bottle, zinc plated broad and narrow trowel, a 3-prong cultivator, locking crescent blade pruner, leaf and flower trimmer, and waterproof tote. Compact size ideal for indoor use.
Item #

GS622
Categories: Lawn & Garden, Leisure & Outdoors, Tools
Tags: 3 Prong Cultivator, Bypass Pruner, Carry Handle, Cloth Bag, Garden Set, Gardening, gardening set, Gardening Tools, gardening tote, Home, Landscaping, Multi Pocket, Pruning Snip, Rake, Shovel, Spray Bottle, Tote, Tote Bag, Trowel, Wood Handle, Zinc Plated Metal
Related Products
Item # CC905

PORTABLE STADIUM SEAT & BLANKET SET

Please add price of product

$24.95 - $24.50

View Details
Your current IP is
44.200.112.172